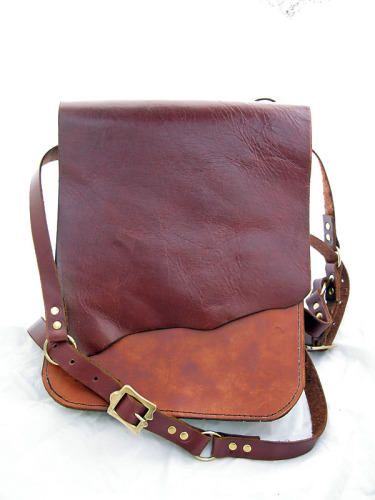 Handmade Leather Messenger Bag
Handmade distressed leather messenger bag.
Handmade leather messenger bag made from firm chestnut coloured distressed leather to give a worn in rustic appearance. Features an internal pocket for a mobile phone, wallet or keys, etc. and a smaller external pocket for receipts, cards or a mobile device. Front panel finished in warm tan block dyed to compliment the rustic style. Strap is fitted with a wide shouder pad for comfort and to lessen the load! Handstitched with wax thread for extra durability. Bag measures approx 30cm X 25 cm externally, strap is adjustable incrementally from around 130cm to 145cm by means of two solid brass buckles.

Back view.

Internal pocket.

External pocket.

Soft shoulder strap.

Fitted with solid brass buckeles.